Red Chilli Pepper Chicken
2 petti di pollo tagliati a cubetti / 2 chicken breasts, diced
70 gr peperoncini secchi / 70 gr dried chilli peppers
5 spicchi d'aglio / 5 garlic cloves
3 cm di zenzero / 3 cm ginger root
1 cucchiaio pepe di Szechuan o pepe rosa in grani / 1 tbs Szechuan pepper corns (or pink pepper)
2 cucchiai di semi di sesamo / 2 tbs sesame seeds
2 cucchiai di salsa di soia / 2 tbs soy sauce
4 cucchiai di salsa di soia / 4 tbs soy sauce
3 cucchiai di vino di riso (o saké) / 3 tbs rice wine (or saké)
5 cucchiai di amido di mais / 5 tbs corn starch
Olio di arachidi per friggere / frying oil
In un recipiente mettere la salsa di soia, il vino di riso e l'amido di mais. Mescolare e unire il pollo. Mettere da parte per 1H.
In a container mix the soy sauce, the rice wine and the starch. Add the chicken, mix well. Set aside for 1H.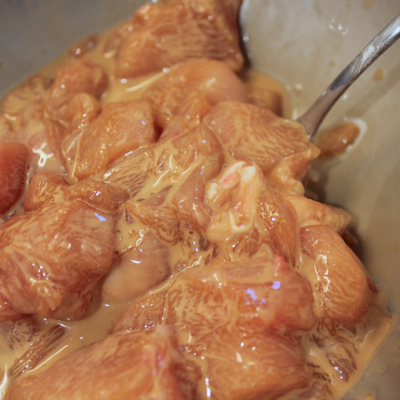 Aprire a metà i peperoncini e togliere i semini interni.
Halve the chilli peppers and clean then from the seeds.
Scaldare l'olio e friggere il pollo finché non sarà dorato e conservare.
Heat the frying oil and deep fry the chicken until golden. Set aside.
In una padella antiaderente (o una wok), mettere 4 cucchiai di olio e soffriggere lo zenzero grattugiato, il pepe, l'aglio (tritato o intero a piacere) e i peperoncini per 7/8 minuti finché non si sprogionerà la fragranza.
In a pan (or a wok), put 4 tbs of frying oil and stir fry the grated ginger, the pepper corns, the garlic (chopped or full at your choice) and the dried chilly peppers for 7/8 minutes until fragrant.
Unire ora il pollo fritto, 2 cucchiai di salsa di soia e saltare per 5/6 minuti finché non sarà evaporata. Unire i semi di sesamo. Servire subito.
Add now the fried chicken and 2 tablespoons of soy sauce and stir for other 5/6 minutes until dry. Add the sesame seeds. Serve the Red Chilli Pepper Chicken still hot.