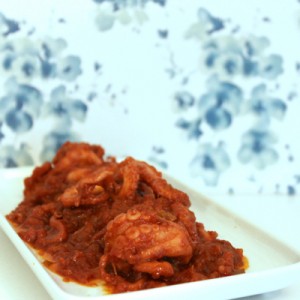 If you have been in Venice and you haven't experienced a dinner at Restaurant 'La Marisa' on Cannaregio, you missed one of the biggest higlights and you have to go back as soon as possible. Dalla Marisa, they serve a serie of home-made delicacies, and amongst them, this wonder of a plate. A plate that might look and feel like a mountain dish, as most of the Venetian cuisine has to offer.
The Marisa version, as it is secret, remains unreachable. But in all modesty, I can state I found a balanced way to reproduce this same emotions you might have or will experience there.
Even though butter usually doesn't match with fish (or at least this is what most Italians would say), don't be tempted to take it out. The mouth watering taste is mostly – yet not only – due to it!
2 medium-sized carrots
1 big onion
2 celery stalks
half tsp ground cinnamon
1 cinnamon stick
400 grams small OCTOPUS
half glass white wine
400 gram tomato puree
half tsp ground red hot chilli peppers
the tip of a tsp of ground chives
3 tpb extra virgin olive oil
150 grams unsalted butter
salt and pepper
Chop the vegetables finely and separately.
Heat the oil and butter together, add the onion and fry for 5 minutes.
Add the cinnamon stick, the chopped carrots and the chopped celery stalks. Fry for further 7 minutes.
Add the baby octopus and fry for 10 minutes – medium high heat stirring continuously – unitl the juices have evaporate.
Add the white wine and let evaporate completely.
Add then the tomato puree, the ground cinnamon, the ground chives, the red hot chilli peppers powder, 1 tsp of salt and one glass of water, mix well and bring to a boil – simmer at low heat for 45 minutes.
Until the meat of the octopus is soft and tender. On medium heat let the sauce thicken, season with salt and pepper and serve with polenta.