Chicken Coconut Soup
1 lt chicken stock
500 ml coconut milk
300 gr cooked chicken
1 tbs turmeric
1 tbs tamarind sauce
3 tbs fish sauce
200 gr bamia
200 gr chinese cabbage
60 gr fresh cilantro chopped
4 fresh spring onions
20 gr lemongrass
100 gr soia vermicelli
3 cm fresh grated ginger
pepper
In a casserole put the stock and the coconut milk. Bring to boil.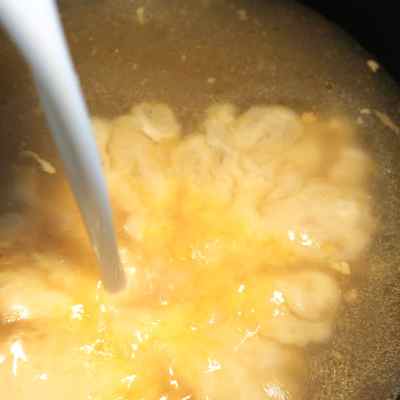 Add the ginger, the turmeric, the lemongrass finely sliced and the tamarind sauce.
Meanwhile slice the bamia, and dice the cabbage and the onions.
Add the bamia, let boil for 5 minutes then add the cabbage and the onions. Cook for 10 minutes.
Dice the chicken. And put the vermicelli in a container adding hot water.
Add the fish sauce to the soup. Add the chicken. Simmer. Lastly add the cilantro.
Put the chicken coconut soup together into the plate now: Put the vermicelli in a bowl, and add the soup on.