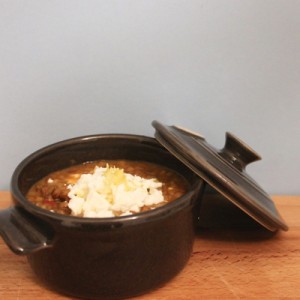 This soup is good in winter (hot) and in summer (warm). Adding the Feta cheese is up to you, the lemon zest is giving to the overall soup a great taste already. In Italy we eat lentils for NYE, they say it bring you loads of money. Not true. But never give up traditions! This version will shift the eating moment from a traditional need to a pure pleasure.
Serves 4
Ready in 1H
300 grams brown lentils
200 grams Feta cheese
1 small onion
2 spring onions
1 small red bell pepper
1 bay leaf
1 cinnamon stick
grated lemon zest
1 tbs of tomato paste
3 tbs white vinegar
1 lt stock (or water + stock cubes at your choice)
3 tbs extra virgin olive oil
Chop roughly the onion and the spring onions. Dice the bell pepper.
Heat the olive oil and stir-fry the onions and the red bell pepper.
Meanwhile wash the lentils under running water for a couple of minutes. Add them to the onion and red bell pepper mixture. Fry for 5/6 minutes high heat stirring.
Add the vinegar and let it evaporate completely (i twill take a couple of minutes).
Add the tomato paste, the stock, the bay leaf and the cinnamon stick. Simmer for 45 minutes (or until the lentils are soft).
Add the grated lemon zest and 50 grams of Feta cheese and let simmer stirring well until the Feta cheese melts down.
Serve hot (or warm), topped with the remaining Feta cheese crumbled and a pinch of fresh lemon zest.