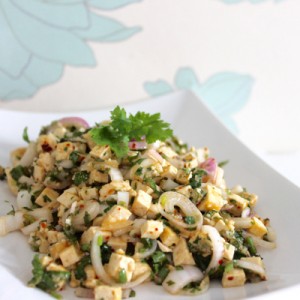 The Larb Tao Hoo – tofu salad – is one of my favorite Thai dishes. Often found with meat (pork), very rarely you can find it with tofu. This is the version I propose to you. If you substitute the fish sauce with soy sauce you will have a 100% vegetarian dish.
Serves 6
Ready in 30 minutes
350 grams tofu finely diced
1 green chilli pepper chopped
1 tbs ground chilli pepper
1 tbs ground black pepper
40 grams glutinous rice (or basmati rice)
6 big spring onions
2 shallots
2 stalks lemongrass (you can skip this in case you can't find any)
100 grams fresh cilantro
30 grams fresh mint leaves
6 limes
2 tbs fish sauce (or soy sauce for a vegan version)
2 tbs vegetable oil
salt
Heat the vegetable oil in a pan. Add the fresh chilli, the ground chilli and the black pepper. Fry for one minute and add the diced tofu. Stir-fry for 8/9 minutes. Season with salt and set aside.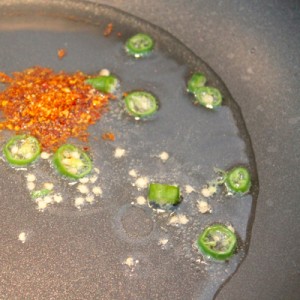 Toast the rice into a hot pan, until hazelnut colour. Use a pestle or a grindr and grind it into a powder. Set aside.
Meanwhile, squeeze the limes and put the juice in a bowl, add the fish sauce (or the soy sauce), 3 tbs of water, mix well and set aside.
Dice the spring onions and the shallots into medium-small pieces. Chop roughly the cilantro and the mint leaves. Set aside.
In a bowl, put the tofu (warm) with its liquids, add the onions and the shallots, cilantro, mint and mix well. Season with the lime-fish sauce mixture and mix well.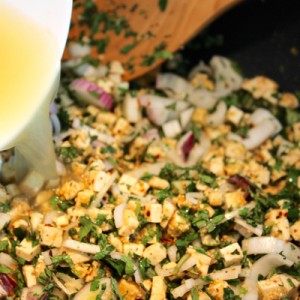 Serve with steamed rice.