Quantities are fro 2 plum cakes baking tins
370 ml condensed milk
370 ml milk
12 egg yolks
60 ml water
220 grams brown sugar
Pre-heat oven to 180° C.
In a casserole put the sugar and the water and bring to boil firdst and let caramelise later. Once hazelnut colour, coat a baking tin (plumcake). Cool down.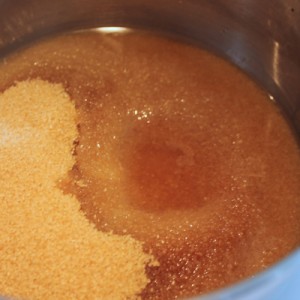 Meanwhile in a container mix the milk with the condensed milk and stir. Add the egg yolk (passed through a sieve).
Pour the mixture into the 2 baking tins.
Put in a bigger tin and fill into the bigger tin pour hot boiling water up to 2/3 of the tins.
Bake for 30 minutes.
Unmould (use a knife to loosen the edge before turning them upside-down).