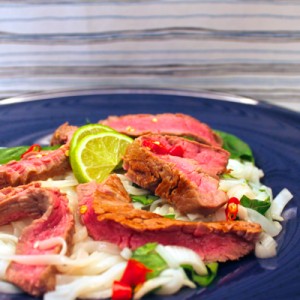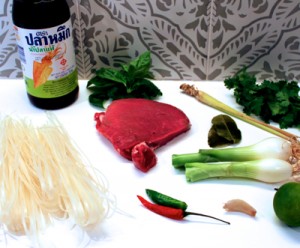 400 grams beef in one slice
100 grams soy (or rice) vermicelli
2 spring onions
30 grams of fresch cilantro
20 grams of fresh basil
5 cm lemongrass stick
1 kaffir lime leave (if available)
Sauce
1 green chilli pepper
1 garlic clove
2 tsp sugar
3 lime squeezed
fish sauce (as needed)
Put the vermicelli in a bowl and pour over hot water to cover them. Let stand for few ninutes until cooked (check cooking directions on the pack). Once done, drain, rinse with cold water and set aside.
Chop finely the garlic and the chilli pepper, and add the other ingredients for the sauce (add fish sauce according to taste). Mix well and set aside.
Slice the spring onions, peel and slice thinly the lemongrass as well. Chop finely the kaffir lime leave (if available). Set all vegetables aside.
Now grill the meat to desired cooking, Stand a few minutes and slice them into smaller slices. Set aside.
Now pour the sauce on the vermicelli, mix well, add all vegetables includine the cilantro and basil leaves. Mix well and if necessary season with fish sauce (or soy sauce or salt).
Put onto the plates and finish with slices of meat on top of the vermicelli. Serve warm.