I am not willing to become a competitor of Findus – but I always loved crispy pancakes. Who does not?. Simple ingredients for a result that will never let you down! And very wuick to make on top.
10 pcs circa
Ready in 1H
Dough:
150 grams of all-purpose flour
250 grams of milk
30 grams of butter
a pinch of salt
Filling I:
80 grams of ham
100 grams of mozzarella cheese
Filling II:
50 grams of tomato sauce
100 grams of mozzarella cheese
To finish & cook:
200 grams breadcrumbs
2 eggs
100 grams flour
500 ml peanuts oil
In a casserole bring to a boil, the milk, the pinch of salt and the butter.
When boiling, add the flour all at once and mix vigorously with a spoon. Let cool down a little and then knead by hand for 3 minutes. Wrap in cling film and bring to room temperature.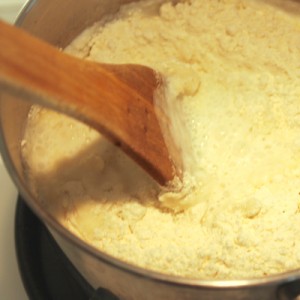 Roll the dough with a rolling pin to 1mm thick. Cut with a round cutter (12-14 cm diameter), and cut circles. Fill half of each circle with the ingredients for the filling and fold the other half. Seal well.
In a small container beat lightly the eggs. Put the pancakes into the flour, then into the beaten eggs and at last into the breadcrumbs.
In a small casserole, pour the peanut oil and bring it to 180° C. Deepfry the pancakes for 1 and a half minute, flip and cook for a fruther minute and a half. Darin on a cloth for a couple fo minutes and serve.