This is very good when warm – prepare it a little in advance to taste it at its best. A perfect November treat.
Serves 8
Ready in 1H
300 grams Shortcrust Pastry (or buy it ready to use)
500 grams pumpkin, cleaned and diced
200 grams goat cheese (sliced)
60 grams grated parmesan cheese
200 gram ricotta cheese
3 tbs olive oil
2 eggs
salt and pepper
Heat the olive oil in a casserole. Add the pumpkin and let cook for 20 minutes.
Drain excess water in a colander and let drain for 10 minutes.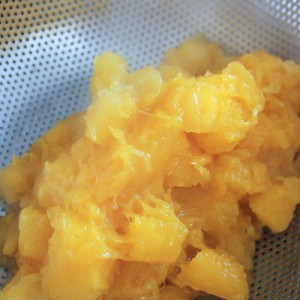 When done, put it in a mixer, and blend.
Add the ricotta cheese, the parmesan, the eggs and blend everything, season with salt and pepper.
Pre-heat oven at 180° C. Coat a pie tin with the pie crust and pour the pumpkin mixture into the coated tin. Top with slices of goat cheese.
Bake for 35 minutes.