If you cannot find watercress, you can easily substitute it with the same amount of fresh lettuce and half glass of green peas. Follow the recipe as it is: the result will be great!
Serves 4
Ready in 30 minutes
8 scallops (no shell is needed)
400 grams watercress (or fresh sweet salad)
1 shallot
200 grams fresh cream
salt and pepper
Extravirgin olive oil
Chop finely the shallot and fry it with 2 tbs of extra virgin olive oil, until transulcent.
Add the watercress, half glass of water and simmer for 10 minutes or until the watercress is cooked through.
In a blender blend the watercress until creamy, return into casserole and add the fresh cream, simmer for a couple of minutes. Season with salt, retain from fire and set aside.
Meanwhile, wash and drain with a cloth the scallops.
Heat 2 tbs of olive oil only when it starts smoking, put the scallops into the pan (top side down – careful when you do this operation the oil is very hot), let fry 2 or 3 minutes and turn on the other side for further 4 minutes. Season with salt.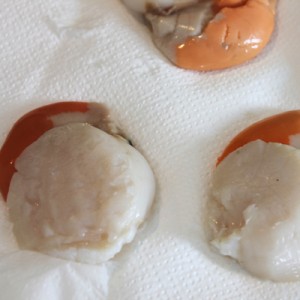 In a plate, pour circa one centimeter o watercress cream, place the scallops gently onto the cream, season with olive oil and pepper and serve immediately.