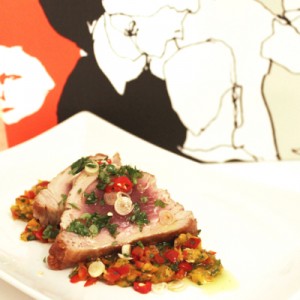 A recipe I tried in a Bangkok hotel a few months ago. Amazing. The fresh and raw ratatouille, is a pefect and balanced side for the seared tuna.
Lemongrass is easily found in international foodstores. Other ingredients easily found almost everywhere.
Serves 4
Ready in 45 minutes
400 grams tunafish 'tail'
200 grams red and yello sweet small peppers
1 or 2 hot chili peppers
1 tbs grated ginger root
1 tbs chopped fresh cilantro
1 garlic cloved finely chopped
salt and pepper
sesame oil
1 tbs fish sauce (if available)
juice of 1 lime
1 lemongrass stalk finely sliced
2 tbs vegetable oil
Chop finely (using hand, and a mortar later – or a mixer) the following ingredients: bell peppers, chilli peppers, ginger, cilantro (retain 1 tsp for finishing later), garlic. Season with salt, pepper, fish sauce, 2 tbs sesame oil and lime. Set aside for 30 minutes.
Meanwhile heat 2 tbs of vegetable oil in a pan. Season with salt the tuna fish and put it into the pan. Sear it for 12/14 minutes, turning it frequently.
Put on blotting paper and set aside while you prepare the plate.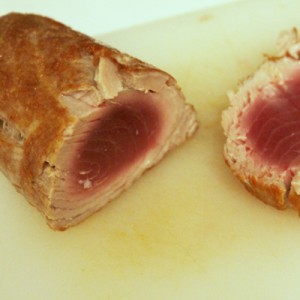 Put the ratatouille lightly drained onto the plate. Slice the tuna fish and put 2 slices per serving on top of the ratatouille. Season with salt and pepper, 1 tbs sesame oil and finish with the lemongrass and the cilantro. Serve.