These recipes are part of the fusion food, a little bit of a country, mixed up with some flavours and ideas coming from another part of the world. I am not generally a fan of fusion food, but when things reach this results in mouth, well I can review my positions. J
Serves 4
Ready in 30 minutes
2 small ripe avocados
250 grams tropical shrimps (medium-big size)
1 egg yolk
20 cl vegetable oil
1 tsp mustard
a few drops of fresh lemon juice
4 o 5 drops of Tabasco
Salt and pepper
1 spring onion or chives to decorate
Peel and half the avocados. Take two halves and slice them finely. Coat the bottom of 2 small bowls and open it as a fan. Set aside in the refrigerator.
Boil for 2 or 3 minutes the shrimps in salted boiling water. Drain and set aside.
Dice the remaining avocado and put them in the same container of the shrimps. Set aside.
Meanwhile prepare the mayonnaise: with a mixer beat the egg yolk with the mustard and few drops of lemon juice (you can add more if you like). Add slowly all the vegetable oil and keep on beating until the mayonese is set. Season with salt and Tabasco.
Season the shrimps and avocado with the light mayonnaise and fill in the small bowls.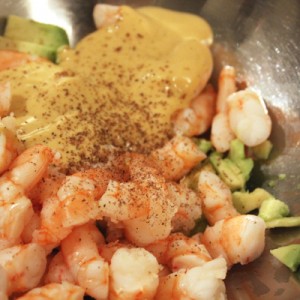 Refrigerate for 30 minutes before turning them upside down onto the serving plate. And serve sprinkle with sliced spring onion or minced chives.