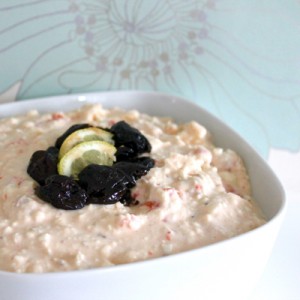 serves 6
ready in 1 hour
300 gr feta cheese
2 red peppers
1 tsp oregan leaves
50 grams pitted black olives
4 tbs fresh cream (or milk)
juice of 1 kemon
2 tbs olive oil
salt
Clean the pepper and grill them until soft and you can peel them easily. At ghis stage, Under running water, clean peel the peppers. Cut them into small pieces.
Crush the feta cheese into small chunks, add the pepper chunks. Season with lemon juice, cream (milk) the olive oil and with salti f needed. Mix well untili t gets creamy (if necessary add some milk or cream).
Add the pitted olives in chunks (retain 2 for decoration).
Refrigerate for 2 hours before serving.